UBC Nursing launches art exhibit: 'Locked Up: The Soul Speaks Out'
From July 23 through August 19, 2022, art on canvas, sketches, sculptures, soap carvings, poetry and more, created by incarcerated people was on display.
The impact of a project that distributed 756 "art and reciprocity kits" to several prisons across BC and the Yukon was showcased as an art exhibit in the Downtown Eastside in the summer of 2022.
How did it all begin?
In the spring of 2020, a team led by UBC School of Nursing professor Dr. Helen Brown and interdisciplinary studies PhD candidate Kelsey Timler started providing art kits to people in prison.
The project, guided by Indigenous Elders and previously incarcerated activists, focused primarily on Indigenous Peoples and people with mental illness. Hundreds of pieces were created and shared with the project team two years later – many of which were part of the exhibit.
The initiative provided opportunities for comfort, healing and community building through writing and art creation and sharing, especially while extreme social isolation measures were in effect due to the pandemic."COVID-19 and the cancelled in-person research activities exacerbated the effects of incarceration," said Timler. "The art kits provided an opportunity to tell the people in prison that they weren't forgotten and to invite them to share their voice and vision with the world if they wanted to."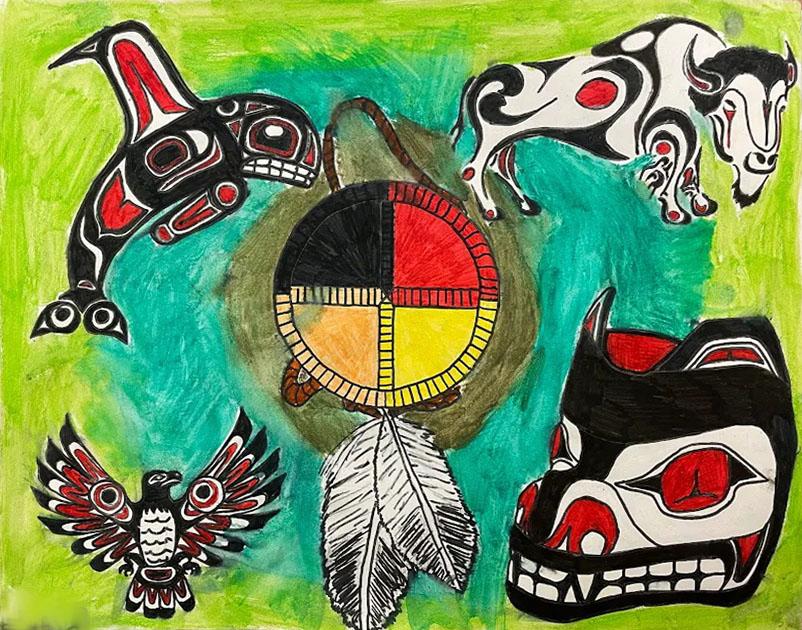 Why is this project significant?
"The current initiative entitled 'Action, Reciprocity, Transformation (ART) & Justice' is an anti-colonial project," said Dr. Brown. "We focus on how historical and ongoing colonialism results in the disproportionate incarceration and criminalization of Indigenous Peoples in Canada. Our invitation to the artists to share their art with the wider public reflects our broader goal of upholding Indigenous Peoples' rights by honouring their experiences, stories and creativity."
One of the Elders in the project team, Elder Jean Wasegijig, shared "This project is important for the incarcerated folks, especially for their healing. Their art is stunning and close to their heart and spirit. My prayers are with them always."
When and where could I see the exhibit?
The art exhibit, in partnership with Gallery Gachet in the Downtown Eastside, ran July 23 through August 19, 2022.
Dr. Brown added: "The art we have received is diverse, powerful, and expressive. We have art on canvas, sketches, sculptures, soap carvings, poetry, and so much more. The art kits unleashed peoples' creativity beyond what we imagined! Some of the artists have shared that their art has been part of their healing process and that they hope the art brings joy to others."
Timler noted that the public was welcome to write, record and draw messages of support and reflections throughout the exhibition run, all of which was gathered and shared with the artists in prison. "We are also working to find ways for the public to commission work directly from artists, and hope people will check out our website and social media accounts for more updates in this regard."
Image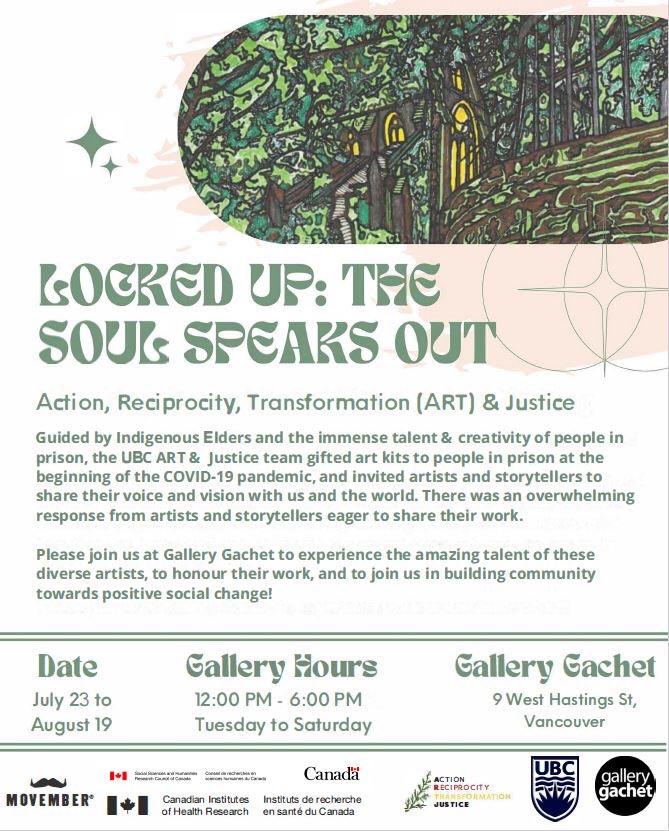 This announcement was originally published by UBC News.
Strategic Priority Areas: