UBC engineering students' aircraft model features BC wood in international competition
Sitka spruce key to UBC AeroDesign's 2022 and 2023 aircraft models.
UBC AeroDesign students are showcasing hometown pride with their use of BC wood in their newest competitive aircraft models.
Each year, international competitors gather at the SAE Aero Design Competition in the US, to pit their fixed-wing, electrical-powered, remote-controlled aircraft against each other in specific design challenges.
Built for the 2022 Regular Class design challenge, UBC AeroDesign's model features balsa and BC-grown Sitka spruce in its fixed wing.
"The spar is the most important structural element of the wing as it carries the weight of the wings," said Vincent Liu, UBC AeroDesign team captain and a fourth-year mechanical engineering student. "Sitka spruce is light, strong and flexible, which makes it an ideal material for this challenge."
"With family roots in the BC forest industry, I am so proud to see this team incorporate local Sitka spruce products so close to home in our aircraft," said Simon Jobst, UBC AeroDesign Regular Class Airfoils co-lead and a third-year mechanical engineering student.
I cannot wait to see our aircraft fly high down in Texas next year, knowing its roots are native to British Columbia, fabricated at UBC and designed by my colleagues!
Interdisciplinary connections key to sustainable engineering solutions
For insight into wood fabrication methods and tolerances for their 2022 model, the team turned to the Centre for Advanced Wood Processing (CAWP) at UBC Faculty of Forestry.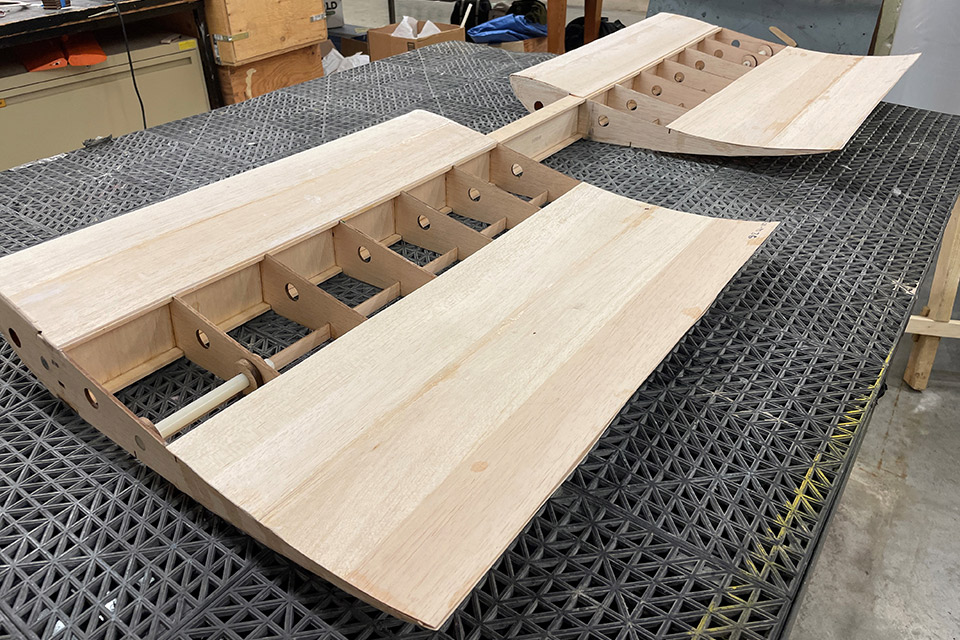 "It was so helpful having CAWP be a part of this project in such a big way," said Jobst. "Our team gained practical, hands-on learning toward a sustainable aerospace engineering solution that built upon and beyond what we learned in class."
Regular Class Airfoils co-lead Thenushaa Balasingam, a biomedical engineering student in her second year, said: "I am incredibly grateful to have attended one of CAWP's tours. It was eye-opening to see the equipment used first-hand to fabricate the spar for our Regular Class aircraft.
"Truth be told, I would not have realized the incredible significance of wood processing and how much room for improvement our team has in this field. We look forward to continuing our collaboration with CAWP, so that our aircraft can excel at the 2023 competition."
UBC AeroDesign plans to continue designing with BC-grown Sitka spruce donated by CarlWood Lumber Limited, and with additional support from DWB Consulting Services Ltd., for the 2023 Regular Class mission to design an aircraft that can lift as much weight in the form of payload plates as required. Wingspan can be maximized up to 18 feet.
Join an engineering design team
UBC AeroDesign is one of over 30 engineering student design teams on UBC's Vancouver campus. Established in 1992, the team is operated by more than 50 undergraduate students from six engineering disciplines and 11 countries around the world. Learn more or support their projects by visiting the UBC AeroDesign website.
Engineering design teams actively recruit new members at the beginning of every academic year. Design teams' focus range from aerospace and automotive to robotics and sustainability, and are open to all years of engineering students, including first-years. Many are also open to students from other faculties in science, business and arts.
Strategic Priority Areas: