Next-gen mass timber construction key to meeting Canada's climate change, housing targets
New research in carbon neutral, disaster-resilient timber construction may be the answer to addressing Canada's urgent housing needs and climate change commitments by 2030. 
Dr. Tony Yang, a civil engineering professor in UBC's Faculty of Applied Science, is leading one of the core themes in a multi-university research project to reset national building standards for mass timber construction. 
The "Next Generation Wood Construction" project – a collaboration between 13 universities and 12 government and industry partners – has received $6.25 million in funding from the Natural Sciences and Engineering Council of Canada (NSERC), the largest NSERC Alliance grant in history. 
Dr. Yang's focus is to ensure that new materials, technology and guidelines for mass timber construction of up to 20 storeys are viable, economical and robust by 2028. 
"This next generation of mass timber construction will mark a turning point for how we build in this country – and potentially the world," said Dr. Yang.
We're confident that with these new tools and materials under our belt, we will help Canada meet – if not surpass – its 2030 carbon emissions goals.
Doubly urgent 
Canada, like many other countries, is facing a dual challenge to build more housing and replace deteriorating infrastructure while reducing carbon emissions. 
With the United Nations projecting a rise in global population to 9.7 billion by 2050, more than 195,000 square kilometres will be needed to house this new population worldwide – equivalent to building the city of Vancouver five times every month for the next 30 years. 
Given the building industry is Canada's third largest carbon emitter – and with Canada expected to spend $11 trillion by 2067 on new infrastructure, as well as to replace deteriorating infrastructure – there is more need than ever for smart, sustainable building innovation. 
Enter one of BC's key renewable resources: wood. 
With a much lower environmental footprint than concrete, or even recycled concrete, mass timber construction holds enormous potential in helping Canada meet its climate goals of a 30 per cent reduction in carbon emissions by 2030, and to reach carbon neutrality by 2050. 
Currently, mass timber construction goes up to only 12 storeys under Canada's national building code. 
The project will deal with four key themes to enable safe, energy-efficient and sustainable mass timber construction of up to 20 storeys: 
Structural and serviceability performance 
Fire safety 
Building envelope and energy performance 
Sustainable construction technologies and practices 
The future of construction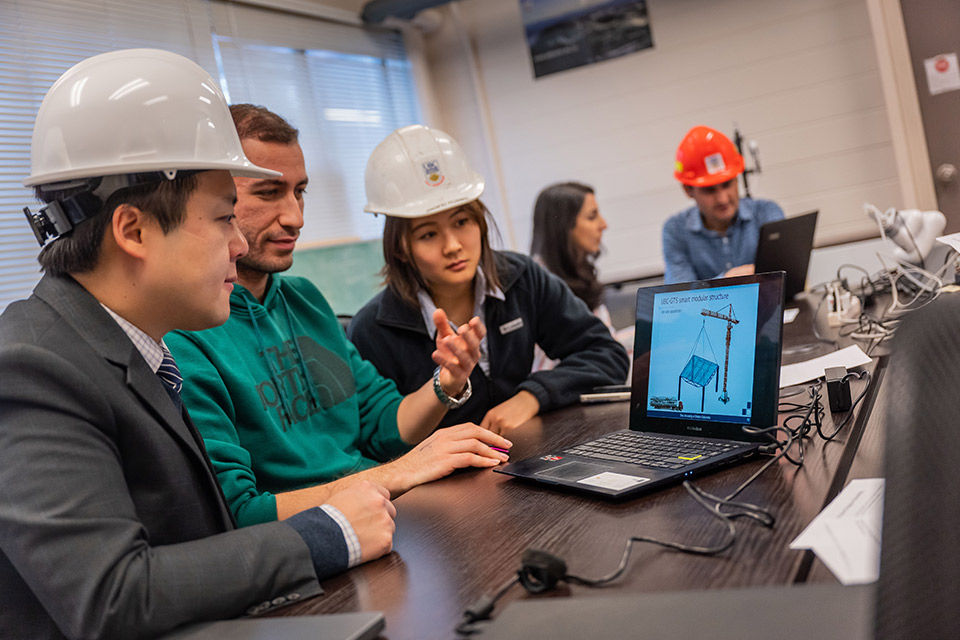 In addition to leading the work on structural and serviceability performance, Dr. Yang is heavily involved in the research to develop sustainable construction technologies, such as quake-resilient modular construction.  
By completing most construction in factories for quick assembly on site, modular construction promises to reduce labour demands on site – especially valuable during a skilled worker shortage – as well as construction waste. While modular construction is already used in Singapore, the UK, USA and Canada, these methods are not applied in quake-prone regions. Dr. Yang's team aims to develop new modular construction that will excel at withstanding earthquakes in high seismic zones, while reducing the carbon footprint of such construction. 
Dr. Yang and his collaborators are months deep into the research, and his team has already developed a prototype for a high-performance timber modular building. 
"Everything we are doing in this project is going to fundamentally change how we do things in the construction industry," said Dr. Yang. "In five years' time, we will be able to deploy the next generation of technology to make infrastructure safer, more carbon neutral and efficient. We will able to protect people's lives from the kind of disastrous aftermath you see from severe earthquakes." 
He expects that the construction industry will be able to use these technologies in the field as soon as 2028. 
Strategic Priority Areas: