UBC SALA students bring resilience and relief through bespoke water fountains and misters
The significance of water and the rich history of Japanese culture in Canada are the inspiration behind every drop of water provided by structures at this year's Powell Street Festival. 
Fuki no Mizu is an initiative that provides attendees at this year's Powell Street Festival, taking place between July 30-31, with pop-up drinking fountains and mist for cooling through pavilion structures designed by a team of undergraduate and graduate students from UBC School of Architecture and Landscape Architecture (SALA).
Powell Street Festival is an annual celebration of Japanese Canadian culture and is one of the longest-running community festivals in Canada. The two-day festival takes place in Vancouver's historic Japanese Canadian neighbourhood along Powell Street, Oppenheimer Park and surrounding areas in the Downtown Eastside (DTES).
The Fuki no Mizu project aims to both celebrate Japanese Canadian culture and address inequitable access to water in Vancouver's DTES communities.
Celebrating Japanese Canadian culture
Fuki no Mizu translates to English as "water from the fuki plant." The fuki plant holds great significance in Japanese culture. It grows up to 3 meters tall and has a medicinal quality, which is meant to represent a new hope for the future and healing from the past.  
"Our inspirations are really just water and the fuki plant itself," said Thea Johannus, SALA undergraduate student. "The purpose is to celebrate Japanese Canadians and honour this gift of water that we have."
Image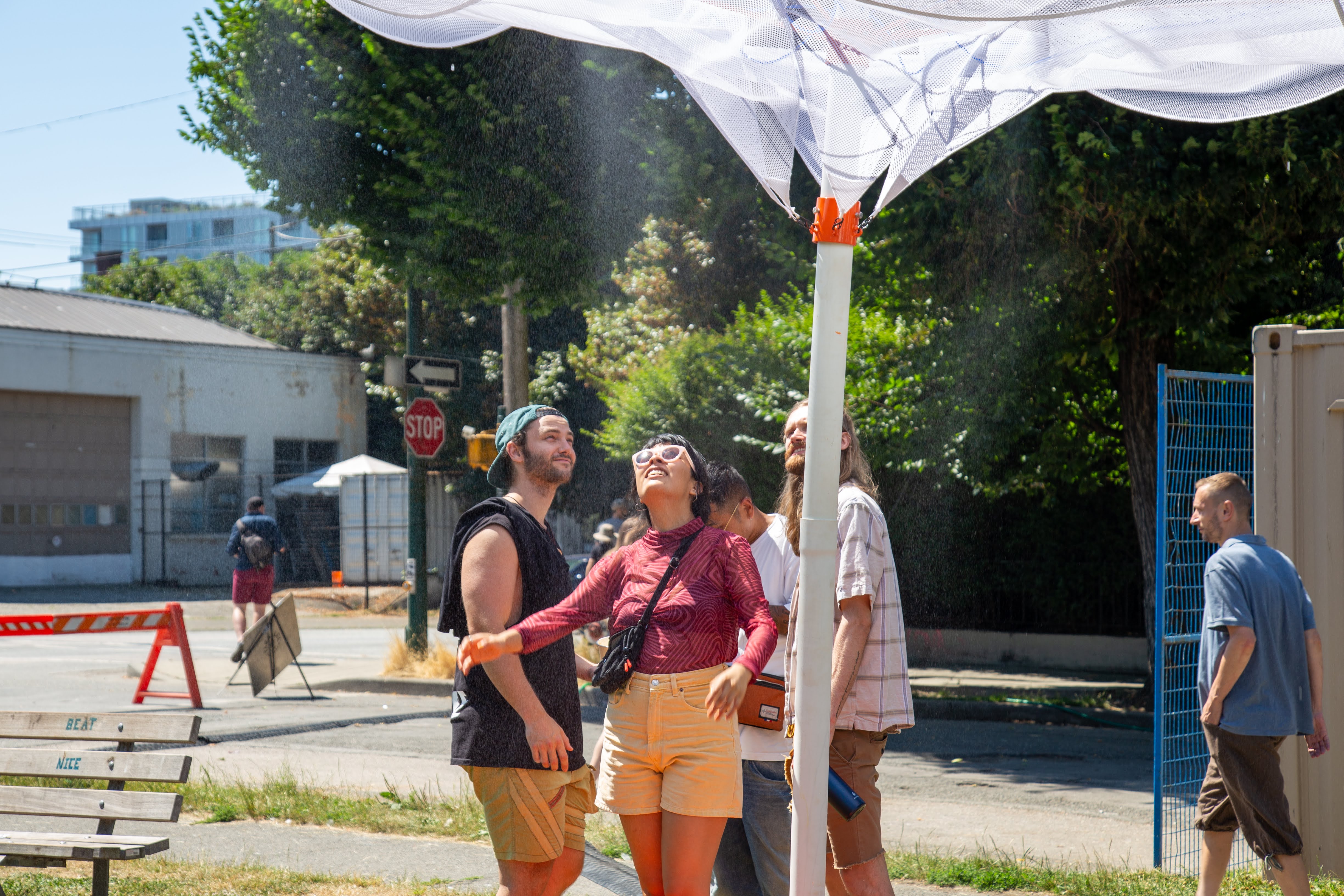 The Fuki no Mizu project aims to both celebrate Japanese Canadian culture and address inequitable access to water in Vancouver's DTES communities. Image by Chris Nurse.
Addressing water inequity
The students aim to bring attention to water and raise its significance as a resource for life. The fountains are meant to raise awareness about those with inequitable access to water in Vancouver's DTES, which has been exacerbated by the COVID-19 pandemic and extreme heat. "[We made] a device that distributes water out of an assembly of very simple materials and creates something that can be very meaningful," said Liana Zheng, SALA undergraduate student. 
Resilience was a key takeaway gathered from the community engagement aspect of the project. Stories and dialogue gathered from workshops with people who live on the Downtown Eastside helped develop the purpose of this project. "We really tried to honour these stories and bring them into the project," said Mari Fujita, the project's faculty lead and Chair of the Bachelor of Design program in Architecture, Landscape Architecture, and Urbanism. "We hope people will come and interact with the water and each other, get a bit of relief and make a connection." 
Creating solutions for community
This project began in January and goes hand in hand with SALA's teachings. "It's a different learning experience than what you would expect in a regular lecture," said Shelly Ugalino, an undergraduate student. "You really have to think on the spot and problem solve when you encounter issues you didn't think of beforehand."
Projects that go beyond the scope of a classroom pose new challenges and opportunities for growth. "It is discovery every step of the way," said Fujita. Creating place-based architecture in conjunction with community members allows students to learn the skills to support communities and create solutions for people.
In honouring the past and looking to the future, Fuki no Mizu offers tangible relief and ignites ideas about the resilience in the Japanese Canadian community and in the people of the DTES.
Strategic Priority Areas: