June is National Indigenous History Month, which began in 2009 with the passing of a unanimous motion in the House of Commons. In June, Canadians commemorate National Indigenous History Month to recognize the heritage, history and diversity of First Nations, Inuit and Métis people.
Event
In June 2022, UBC's Applied Science and Land and Food Systems EDI.I Office presented Harm is Not Historical, a National Indigenous History Month event.
Thought-provoking panelists led a conversation on Indigenous resilience and strength in health care, the environment, and self determination.
Speakers
Professor Colleen Varcoe, UBC School of Nursing - Colleen is of immigrant (English) and Indigenous (Cherokee) ancestry. She aims to decrease inequity and violence, including interpersonal and structural forms of violence such as racism and stigma related to poverty and substance use. Through action at the organizational and community level, her work promotes equity for women and Indigenous peoples in health care and criminal justice contexts.
---
Ken Edzerza, Vice President of the Tahltan Central Government - Ken holds a Master's Degree in Leadership and is the Vice President of the Tahltan Central Government. For more than twenty-five years, Ken Edzerza of the Tahltan First Nation, has committed his career to the disciplines of self-governance and cultural governance. Over that time, he has not only worked with high-risk street youth, serious young offenders, and socially disadvantaged youth, he has also worked extensively to improve the systems and governance models that support them.
---
Joely Viveiros, UBC First Nations House of Learning - Joely is from the Gitxsan Nation with ties to the Xenaksiala people of the Haisla Nation. She is the Associate Director of FNHL which provides programming, advice, and support systems for UBC Indigenous students, faculty, staff and alumni. Prior to her role at UBC, she operated a private audiology practice in Terrace, B.C. for 25 years, where she also raised a family.
Listen to this invaluable discussion:
 Harm is Not Historical Recording 
Resources
Editors Note: We've updated last year's National Indigenous History Month announcement to provide up-to-date content. 
Get Educated
Read UBC's Indigenous Strategic Plan, which sets out a series of goal and actions the university will collectively take in order to work towards becoming a leading university in the implementation of Indigenous peoples' human rights.
Following the one-year anniversary of the discovery of the unmarked graves by Tk'emlúps te Secwépemc at the former Kamloops Indian residential school, read about the actions of Danilo Caron, a MASc graduate student and member of the Sagamok Anishnawbek First Nation, and how he organized members of the Applied Science community in painting the Engineering cairn to express our sincere sorrow and support for all Residential School Survivors. 
Listen to Pope Francis's apology for the conduct of some members of the Roman Catholic Church in Canada's residential school system. Indigenous communities call on the Church to transition from symbolic to meaningful action in the coming months. Read the perspective of Taylor Behn-Tsakoza, a member of the Fort Nelson First Nation in BC.
Get Engaged
Celebrate the achievements of Indigenous students at UBC by watching the Indigenous Graduation Celebration, recorded on Saturday, May 28th  from the First Nations House of Learning.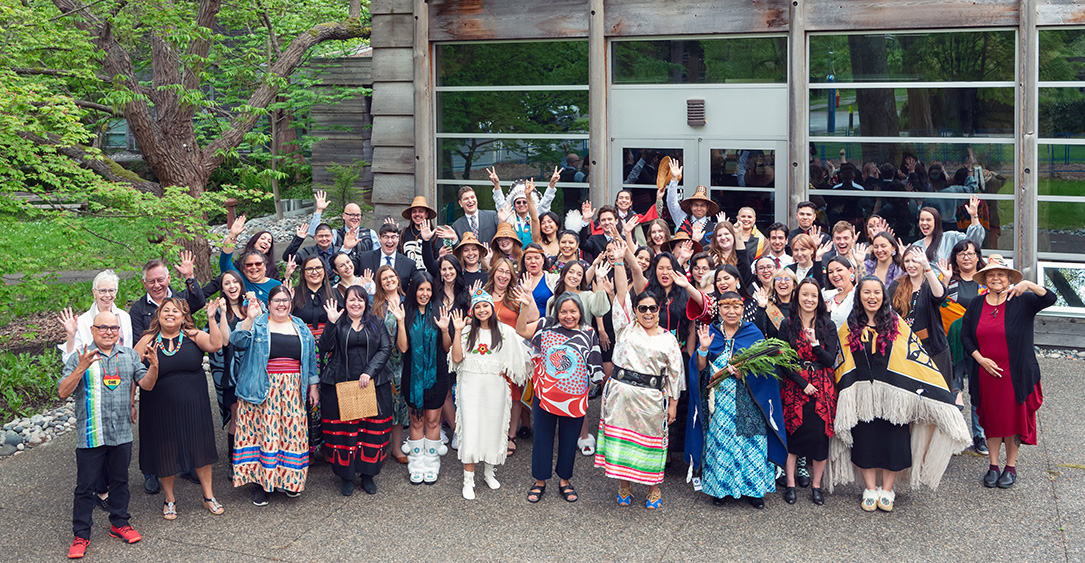 Explore the Indigenous Community Planning program. This program was co-created by Dr. Leonie Sandercock and the Musqueam Indian Band, through the School of Community and Regional Planning, to empower students with theory, skills, knowledge and capacity needed to support Indigenous communities in achieving their own aspirations in land stewardship, cultural revitalization, strong governance, health and well-being.
Call to Action
Indigenous History Month is an opportunity to honor the strength and resilience of Indigenous communities. It is up to each of us individually, and all of us collectively, to educate, engage, and work towards creating meaningful action.