Applied Science staff recognized with 2022 Dean's Awards
The 2022 Dean's Staff Awards for Excellence are being presented to staff members who have made exceptional contributions to the UBC Applied Science community, in areas aligning with the Faculty's values and commitments.
This year's awards go to:
Dean's Staff Award for Excellence – Early Career: Tamara Ross, School of Architecture and Landscape Architecture
Dean's Staff Award for Excellence – Impact: Erik Wilson, Mechanical Engineering
Dean's Staff Award for Excellence – Equity, Diversity, Inclusion and Indigeneity (EDI.I): Renee Leboe, UBC Okanagan School of Engineering
Dean's Staff Award for Excellence – Inclusive Leadership: Heather Gerrits, Mechanical Engineering
Dean's Staff Award for Excellence – Service Dedication: Ellen Siu, School of Nursing
Dean's Staff Award for Excellence – Student Engagement: Erin Fehr, Dean's Office
Dean's Staff Award for Excellence: Dr. Joanne Moszynski, Dean's Office
---
Dean's Staff Award for Excellence – Early Career
Image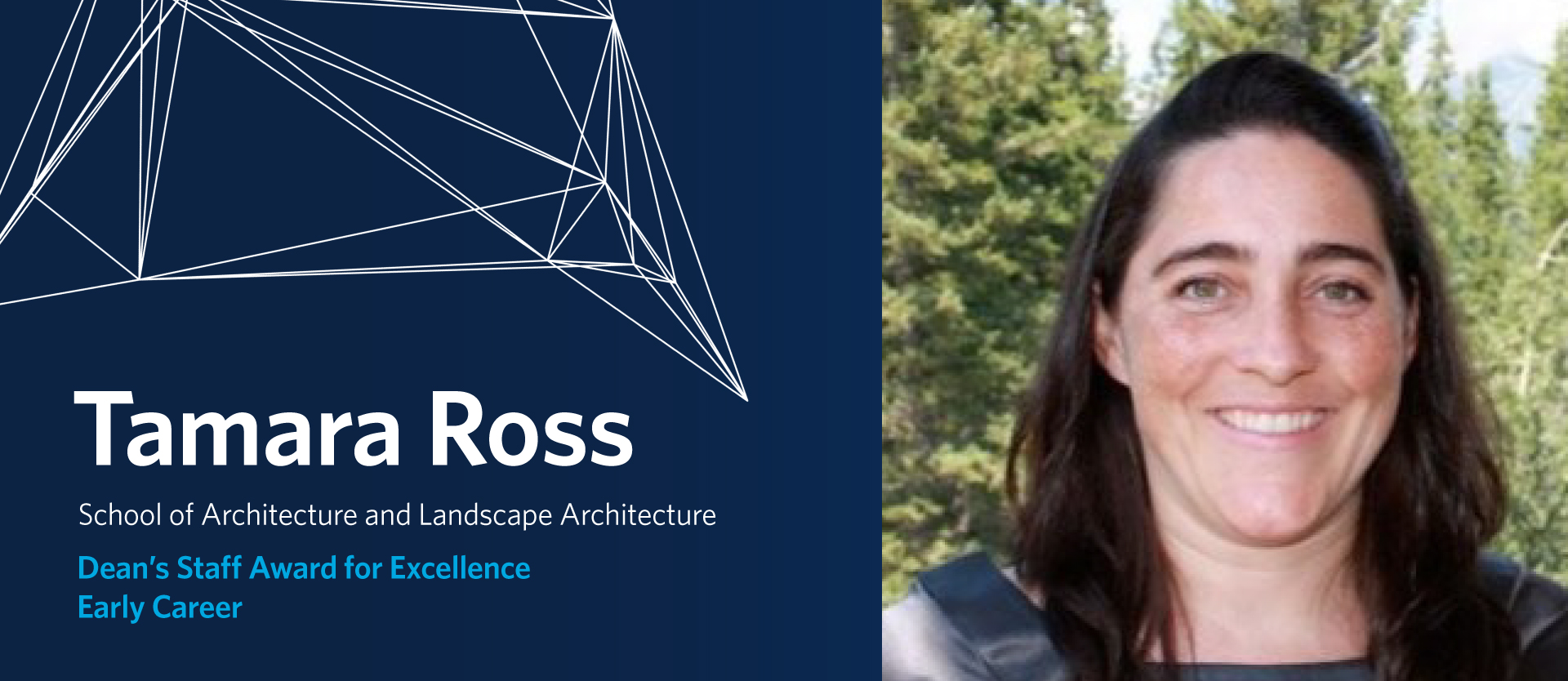 Tamara Ross
Associate Director, Administration and Academic Operations, School of Architecture and Landscape Architecture (SALA)
Since starting her role as Associate Director of SALA in 2021, Tamara Ross has exemplified excellence and innovation in leadership by building capacity, fostering new connections between faculty and staff, and taking a key role in developing the process and framework for SALA's Strategic Plan (which had been on hiatus since March 2020).
She carries equity, diversity and inclusion as core principles in her work, bringing creativity and great care to her contributions. In a collaborative process, she helped research and embed more inclusive hiring processes at the faculty and staff level. She has also re-organized and streamlined meetings, staff positions and reporting processes, enabling SALA to operate more effectively, efficiently and strategically.
Observing Tam while she navigates her myriad responsibilities is inspiring. She seems to have knack for making what seems insurmountable seem doable. I truly aspire to engage my work in the way that she does.
---
Dean's Staff Award for Excellence – Impact
Image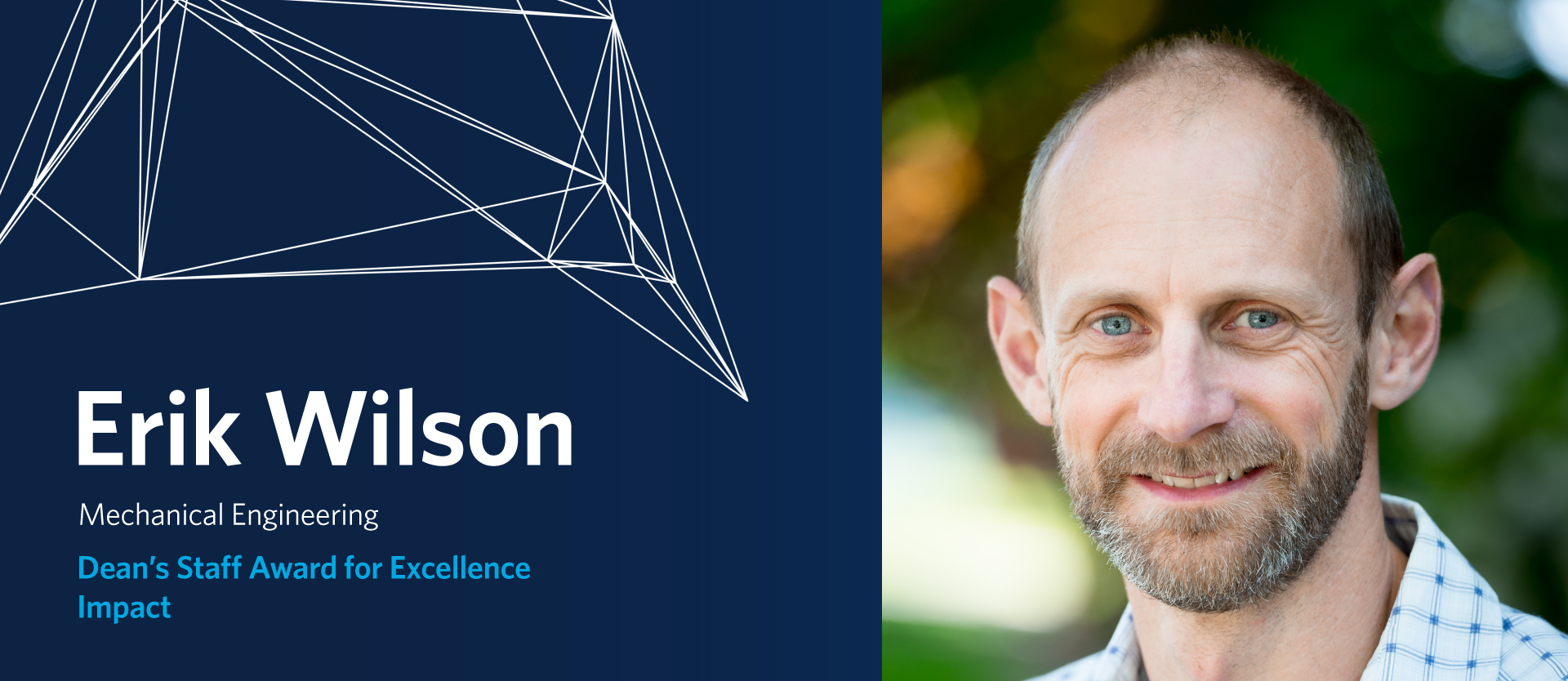 Erik Wilson
Engineering Technician IV (Lab Technician), Mechanical Engineering
Erik Wilson makes an impact with a bang! And a thud! And with amazing design and implementation of technology to create exceptional laboratory experiences for our students: hands-on, practical and effective.
Since 2006, mechanical engineering lab technician extraordinaire Erik Wilson has transformed the mechanical engineering lab experience into excitement, efficiency and deep experiential learning. He also plays a crucial role in making the MECH 223 design competition a very popular annual event among students.
His boundless energy and careful consideration of how to constantly strive for better have made him an inspirational leader among technical staff. He also mentors and supports students closely, guiding with a light touch so they can refine their ideas and find solutions to their problems, with his advice being sought after by undergraduate and graduate students, engineering design teams, and facilities.
---
Dean's Staff Award for Excellence – Equity, Diversity, Inclusion and Indigeneity
Image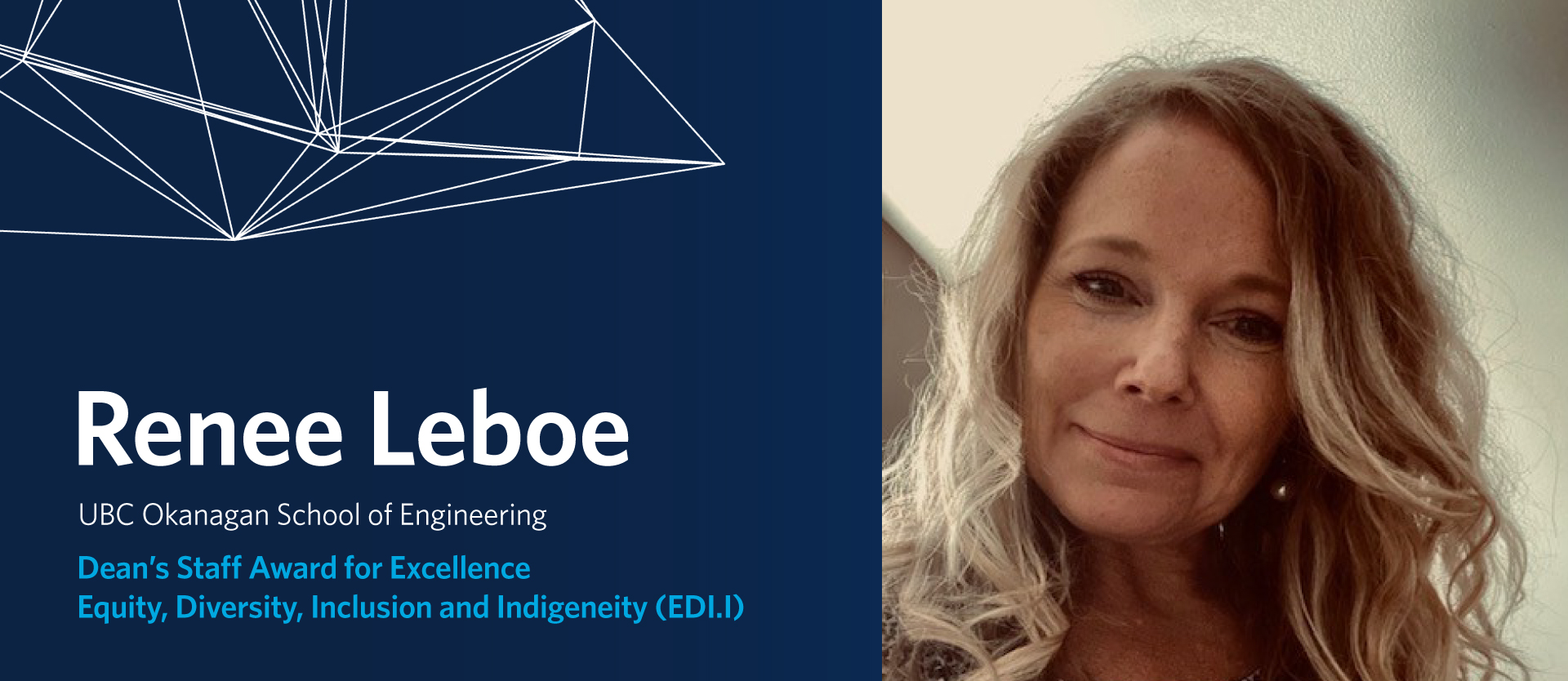 Renee Leboe
Manager, Engineering Academic Services, UBC Okanagan School of Engineering
Renee Leboe plays a pivotal role leading and empowering front-line advising staff to enable, support and positively influence School of Engineering students, faculty and staff. She is respected within the School and beyond for her positive demeanour, wise guidance and commitment to the mental and physical wellbeing of others.
For more than a decade, she has served an integral leadership role in creating bridges between students, faculty and administration, doing so with a kindness and altruism that is remarkable. Her strong advocacy for under-represented groups within engineering has advanced progress in this area, including establishing a self-sustainable micro-forest on the UBC Okanagan campus (supported by the Indigenous Strategic Initiatives fund).
Renee epitomizes every aspect of this award and never looks for recognition, always focusing on others and how she can help in a given situation. It is my hope that she receives recognition for all that she does for UBC and the community as a whole.
---
Dean's Staff Award for Excellence – Inclusive Leadership
Image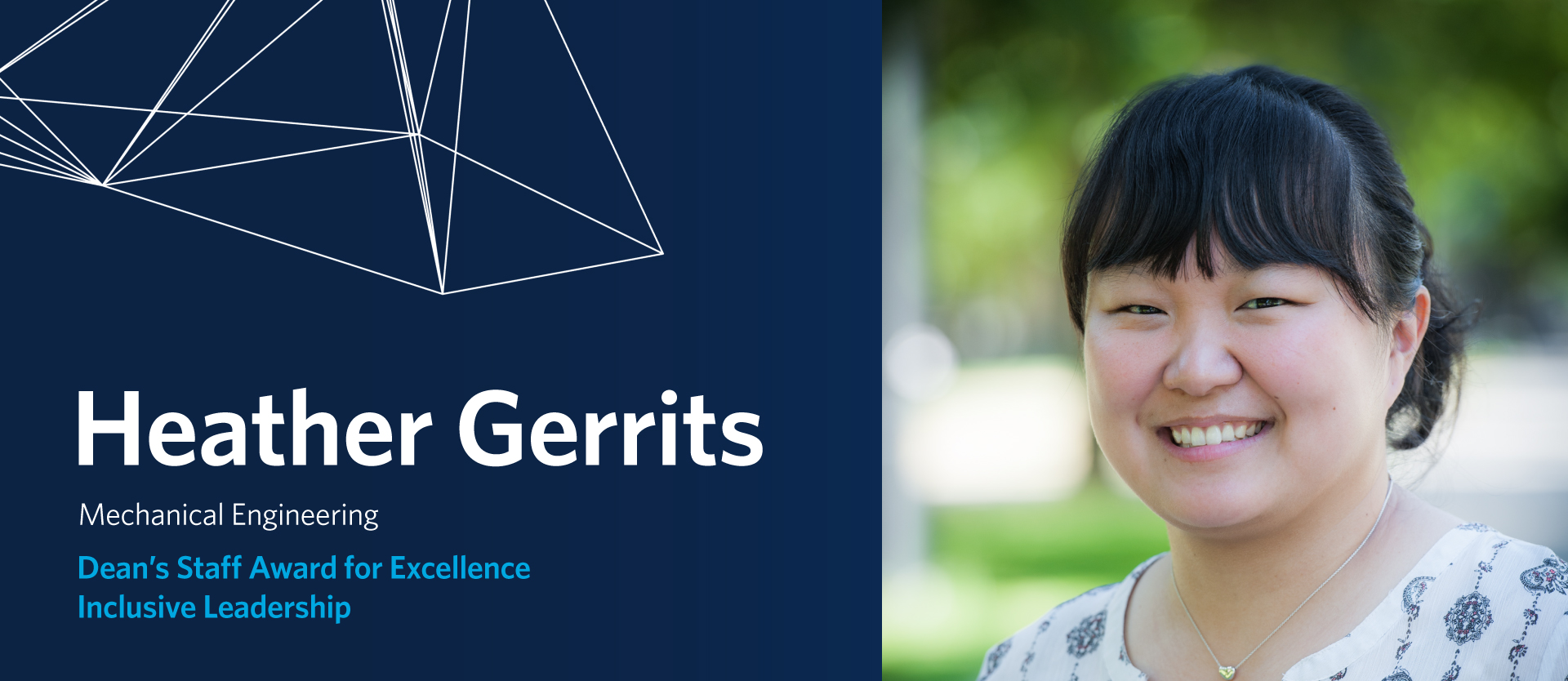 Heather Gerrits
Manager, Student Services, Mechanical Engineering
There are leaders who inspire with a vision and dream; leaders who encourage, nurture, and grow the people around them; leaders who help their team achieve big goals and create connections. And then there are leaders who do it all – Heather is one.
Heather Gerrits personifies what a student service professional should be: a caring, compassionate, engaged and inclusive individual who serves students, faculty and staff by bridging barriers, enabling conversations, and leading initiatives that make her department, faculty and UBC a better place for all.
She and her team actively reach out to students who may be struggling, including a personal reach out to over 500 mechanical engineering undergraduate and graduate students during the pandemic. She is a tireless advocate for increased student support, and brings student and staff feedback to department leadership. Faculty and staff also connect with her to get support for difficult situations and best practices.
---
Dean's Staff Award for Excellence – Service Dedication
Image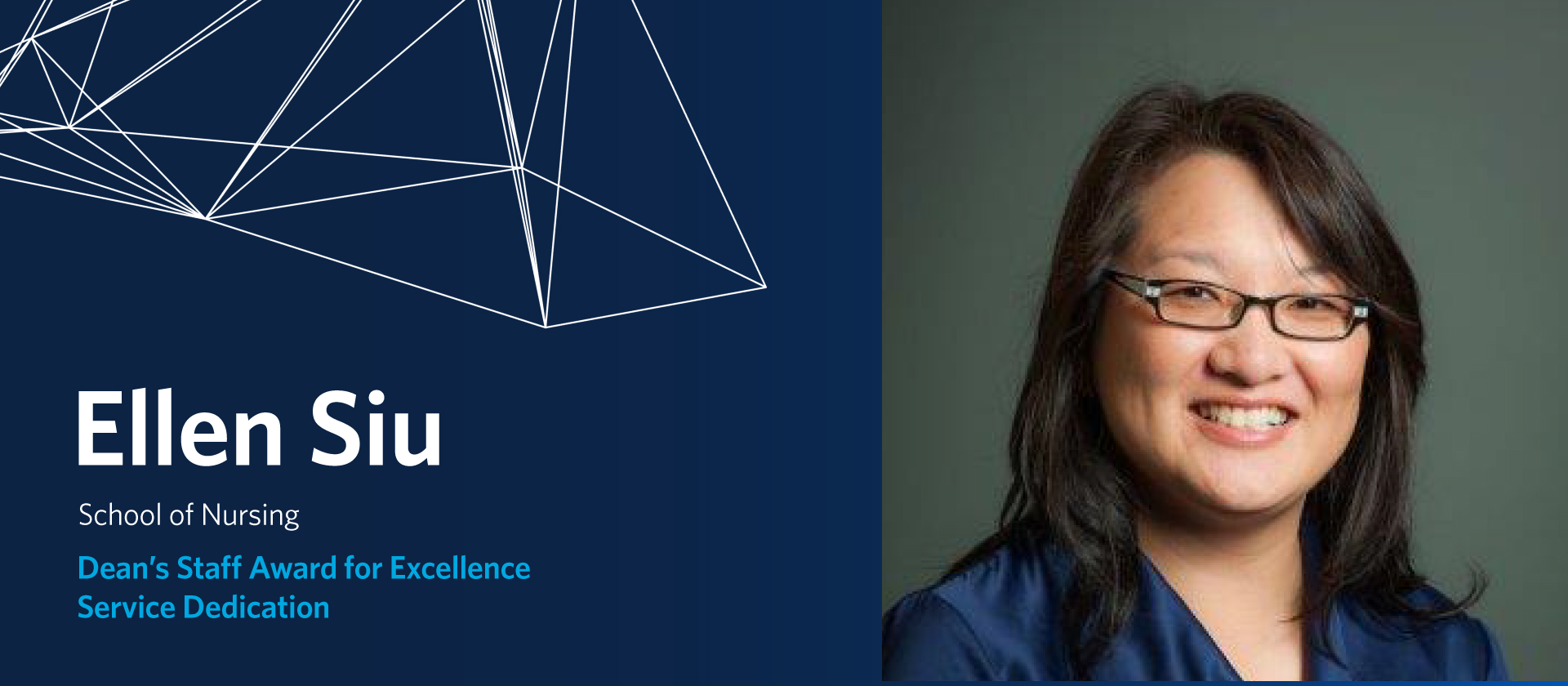 Ellen Siu
Senior Manager, School of Nursing
Ellen Siu has been a stalwart contributor to the UBC Applied Science community for 16 years, and to the School of Nursing for nearly 10. She is an enthusiastic leader of many initiatives in the School, and was instrumental in launching Nursing's Vancouver Summer Program, expanding the Nurse Practitioner master's program and launching new electives open to all UBC undergraduate students.
In addition to the supervision and mentorship that she provides to her own staff, she has been tremendously generous in mentoring colleagues. She has a network of past employees at UBC and beyond who prize her mentorship in supporting their own growth. Staff naturally gravitate to her because she believes that everyone should have a shot on the road to success.
My first impression of Ellen was her infectious laugh. Hearing her laugh down the hall, I knew I was in store for something great and something different – a joyful workplace.
---
Dean's Staff Award for Excellence – Student Engagement
Image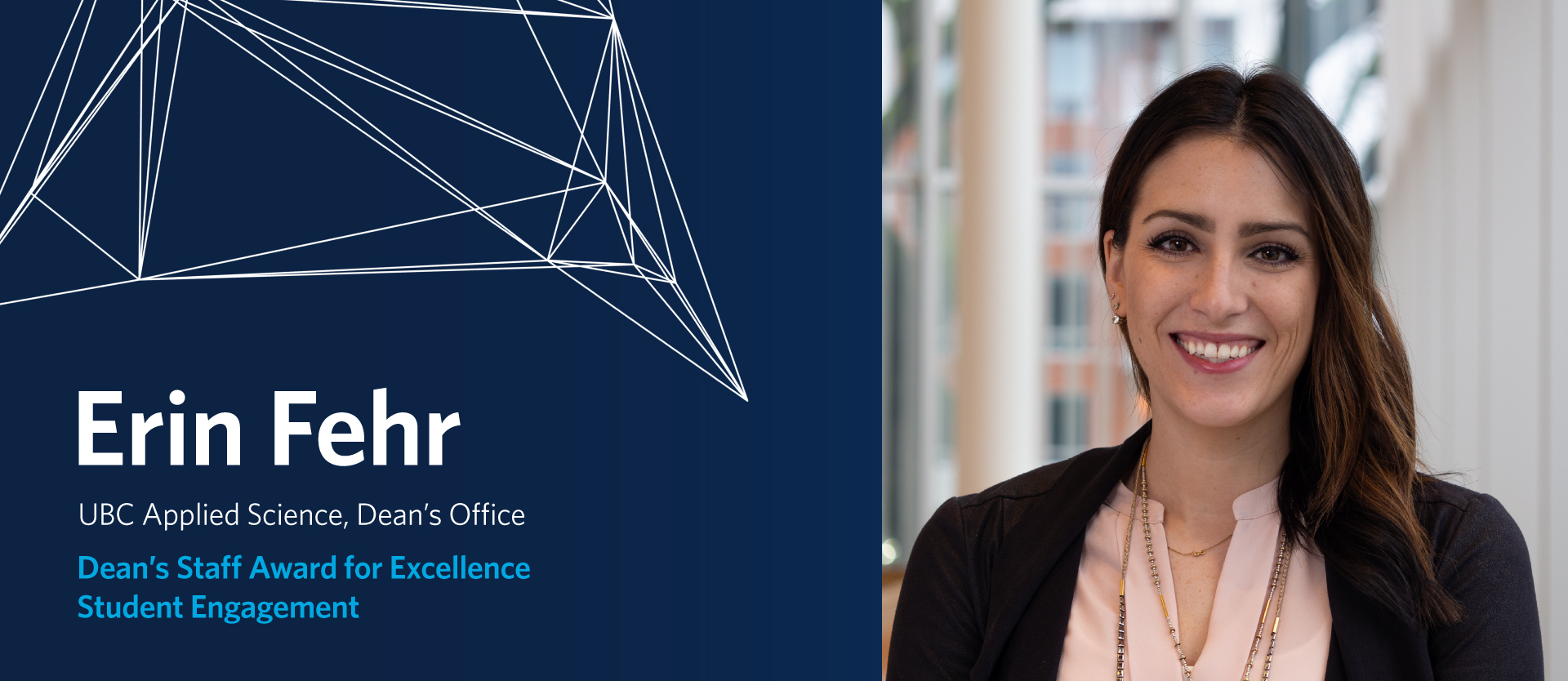 Erin Fehr                                                                           
Student Recruitment Officer, Dean's Office
Erin has become the face of UBC Engineering recruitment – literally current students – who if you try to introduce her – will say, 'Oh, we know Erin. Erin is famous!' due to their exposure to her efforts in their coming to UBC.
Since her initial position with Applied Science as the First-Year Engagement Officer, and now as Student Recruitment Officer, Erin Fehr excels at putting students first. Her understanding of and work to enhance the journey from prospective to current student has improved undergraduate students' success and experience.
She has developed a deep understanding of the barriers that women, Indigenous and Black youth face to join engineering, and works extremely hard to increase diversity. She has broadened recruitment initiatives, including virtual and in-person engineering open houses on both UBC campuses, numerous information sessions, and new sessions for prospective women and Indigenous students considering UBC Engineering. Since she joined the team, the percentage of women applying to UBC Engineering has increased by over 60 per cent.
---
Dean's Staff Award for Excellence
Image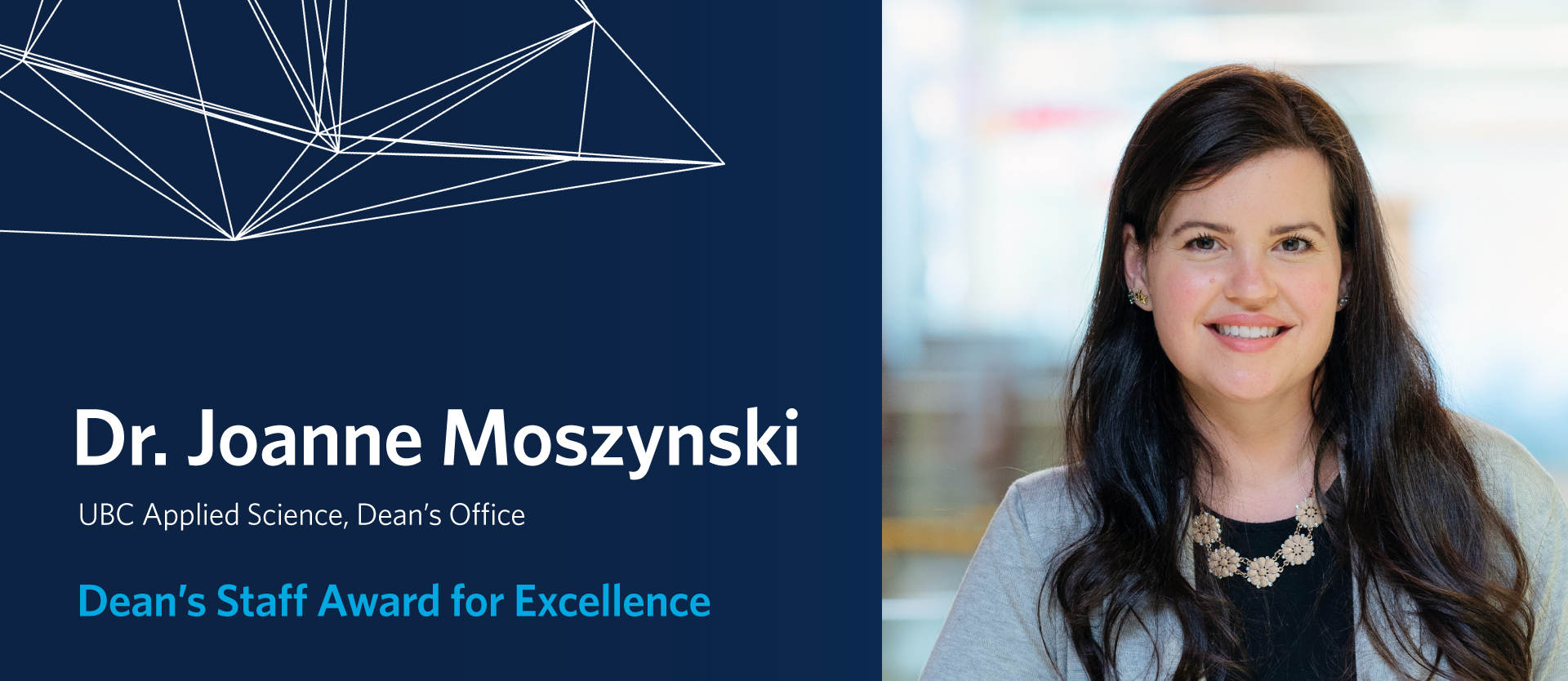 Dr. Joanne Moszynski
Senior Manager, Research Development, Dean's Office
Guided by Dr. Joanne Moszynski's leadership and in-depth knowledge of the Faculty's strengths, the UBC Applied Science Research and Partnerships team has evolved a more integrated support model. She diligently focuses on the submission of competitive, high-value proposals aligning with the Faculty's strategic goals, and has led the development of programs like the Discovery Grant Bootcamp, which resulted in a measurable and positive impact on the Faculty's success rates in federal programs.
She uses her advanced knowledge and expertise in grant funding to help teams design and deliver support activities, which in turn enhance the research excellence and competitiveness of the faculty. She makes herself readily available to colleagues for consultation, and no ask is too small. She leads by example and with a compassionate attitude that maintains morale during extended periods of intense activity and challenging deadlines, going above and beyond her role.
Joanne Moszynski = Truly Exceptional. Full stop.