UBC Thunderbots take top spot at international robot soccer competition
The UBC Thunderbots have placed first in their division at the RoboCup, an annual robot soccer competition for university students around the world.   
 
It is the UBC design team's second RoboCup victory in a row, having topped the same event category — the Lower Tournament of RoboCup's Small Size League — in 2019. (The 2020 competition was cancelled due to the COVID-19 pandemic.)   
 
"Despite the challenges of the past year, including not being able to meet in person since March of 2020, we were fortunate to achieve another win," says Chantal Sousa, a fourth-year integrated engineering student and the team captain. "I'm so pleased with what we've accomplished, and grateful to be able to participate in this wonderful competition again."  
 
Formed in 2006, UBC Thunderbots gives students with an interest in artificial intelligence and robotics an opportunity to create their own group of small-sized autonomous soccer-playing robots. Every year, the students work together to improve the bots' performance, drawing on their backgrounds in engineering and computer science to give their players greater agility, speed, power and accuracy.   
 
Before the pandemic, games in the RoboCup's Small Size League would involve two teams of either six or eleven robots — each no greater than 15 centimetres in height and 18 centimetres in diameter — playing with an orange golf ball on a nine-by-six-metre green-carpeted field. This year, the competition took place entirely online, with teams facing off in computer-simulated matches that, Sousa notes, proved no less challenging than in-person ones.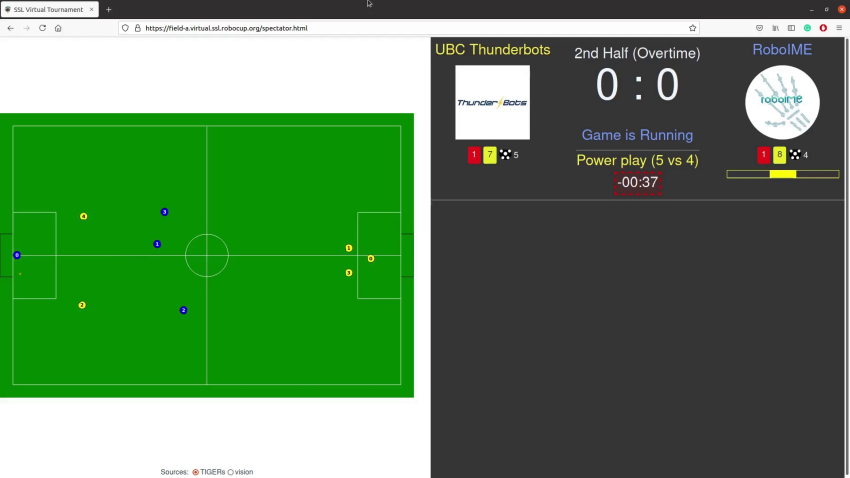 "The technical committee behind the competition actually ended up making the simulation as realistic as possible," she says. "Along with a very accurate, physics-driven simulation, they incorporated physical robot metrics, faked sensor noise and injected spurious glitches occasionally found in real gameplay — often worse than we would experience in the real world!"  
 
Without a hardware component to work on, Sousa and her colleagues focused on sharpening their players' artificial intelligence, or the software that enables them to move intelligently and work together as a team. The virtual nature of the tournament also allowed all 60 members of the Thunderbots to participate, which was not possible in the past.   
 
"In a typical year, our competition would likely be in a city in a foreign country like Germany or Australia. Since these trips are expensive, we usually can't involve more than 10 to 14 members," says Sousa. "This year, though, everyone was able to watch, participate and help out. That was really fantastic, as far more members got involved with the RoboCup community."  
 
One of the largest robotics events in the world, the RoboCup was established in 1997 "as a vehicle to promote robotics and AI research, by offering a publicly appealing, but formidable challenge." It aims to lead to the creation of "a team of fully autonomous humanoid robot soccer players [that] win a soccer game […] against the winner of the most recent World Cup" by the mid-21st century.   
 
Despite the benefits of competing remotely, the Thunderbots are looking forward to the return of the in-person event and are actively recruiting new members to help develop their physical robots. Interested candidates can reach out to the team via Facebook, or by email at ubcrobocup@gmail.com.