"Working to make our world a better place, one engineer at a time" 
Degree: Bachelor of Applied Science
Program:
Campus: Vancouver
Year: 5th Year

Hi everyone, my name is Meghan, I'm from Northern Ontario, I use the pronouns she/her/hers, and I'm going into my 5th year of Chemical & Biological Engineering. A big part of my time at UBC has been about being involved in the Engineering community. In addition to helping to provide solutions, assisting with the development of future engineers is also a vital aspect to our role within our communities. This belief in contributing and building my community is my reason for engaging in numerous extra-curricular and community involvement. During my time at UBC, I've been extremely honored to been involved with the UBC Design Team ChemECar (2018-2022), Engi-YOU Wellness (2020-2021), CHBE Undergrad Council (2022-Present), APSC Ambassador (2021 – Present), UBC Work Learn (2018 – 2021), Residence Advisor and Senior Residence Advisor (2019 – Present), Co-op Program (2019 – Present), Orientation Leader & Senior Orientation Leader (2020 – 2021) and the AIChE Pacific Northwest Regional Conference (2021). Through each of these involvements, I've been able to give back to my community in different aspects and meet so many amazing individuals. I'm extremely grateful to be a part of the UBC engineering community, and I'm so excited to continue to be involved until I graduate.
How did you decide your current UBC Engineering discipline, or why did you choose UBC Engineering?
For 5 years, I was fortunate enough to live abroad in Jakarta, Indonesia with my family. There, I was given the opportunity to learn about the struggles that so many people face around the world, which is not as well known to most Canadians. As I was able to learn and understand firsthand their struggles, for example, access to clean drinking water, this gave me the inspiration and motivation to become an engineer. I believe an engineer's duty to their community is to offer support and solutions to everyday needs. I especially thought Chemical & Biological Engineering would allow me to best support the community, as what we learn and study can be applied to many different industries. This would best equip me to go out into the world, and support my local community, or develop solutions to better others worldwide.
What has made your time at UBC Engineering memorable?
An involvement that has made my time with UBC Engineering memorable would be my involvement with the design team Chem-E-Car. I was on the team for 4 years and was lucky to be Captain for 3 of those, which I'm extremely proud of. I have been honored to work with so many young and inspiring engineers, assisting them as we navigate the process of our design team and their preparation for annual competitions. It was successful and fun because of our collaboration and teamwork. Encouraging and supporting team members to research, design and develop new technologies was so exciting! I am extremely proud of the team we built and with all our struggles, including COVID-19, we have so much to celebrate with our accomplishments. I'm so grateful for my time on the design team, and I can't wait to see where the team goes next.
Image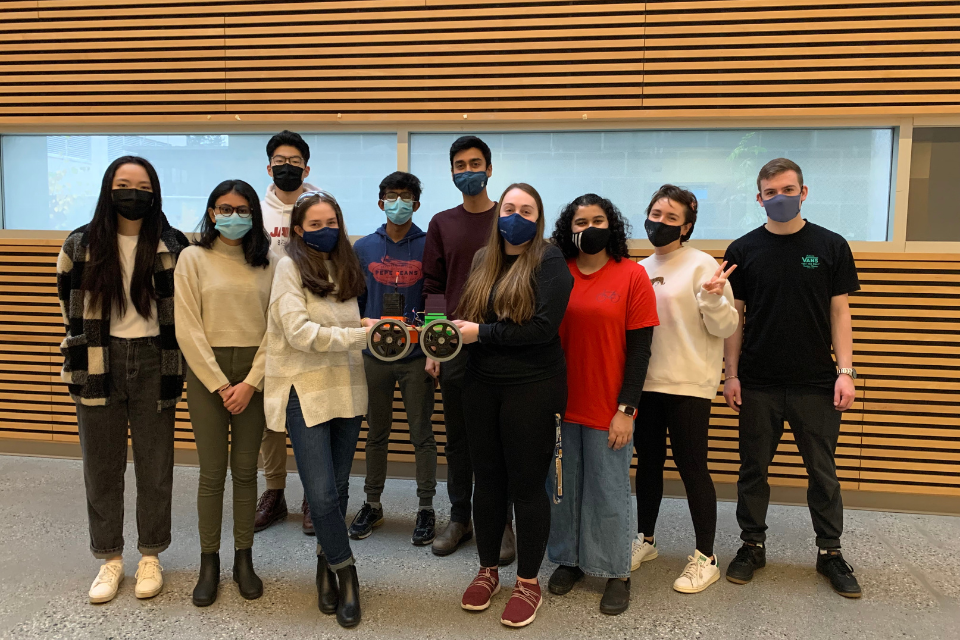 Tell us about your experience in your program. What have you learned that is most valuable?
CHBE isn't just about the learning about processes or how to be stewards of the environment, its about learning to work in a team and supporting those around you. CHBE Faculty, staff and students are some of the kindest people you'll meet. Everyone is always so eager to support in your education, whether that's assisting with homework, or explaining a concept to one another. Faculty and staff are also always looking for ways to improve the student experience, and this may be by offering grants for design teams or research groups or offering an ice cream event for students to destress. Engineering isn't just a task for an individual person, there is always room for collaboration. CHBE has taught and shown me this and will be extremely valuable as I move forward in my career as an engineer.
What resources or events organized by UBC Engineering have helped you in your academic, professional or entrepreneurial journey thus far?
A UBC Engineering program that has offered me professional development would be the co-op program. Upon hearing about the benefits of completing the co-op program and the job prospects that are available to students, this immediately piqued my interest. The Co-op program offers students the opportunity to work for 16 months in jobs related to your engineering degree. You can apply to hundreds of available jobs and get access to workshops and support from your coordinator. Participating in the co-op program and extending my degree is one of the best decisions I've made while studying at UBC.
What is one piece of advice you would share to a student entering UBC Engineering?
My biggest piece of advice, that I wish I knew as a first-year student, would be to know that grades aren't everything. Every year while in school, I've worked 1 or 2 part time jobs and joined multiple clubs / extracurriculars. At first, my marks suffered, but as I went through each year, I've slowly adapted to being busier and have improved in school. I've also found that I've learnt so much from my involvements and met so many amazing people, which has made my university experience. If you are extremely passionate about something, don't let your marks get in the way of it. An additional 2% is not worth not having fun will doing your degree!
Image
At UBC, we are creating highly impactful solutions that aim to radically transform health and wellness, and shape a society and economy where people are more connected, empowered and effective. How has UBC Engineering inspired your entrepreneurial thinking, and helped you make a difference in your own community or beyond?
Mental health is extremely important, and an important aspect while studying to be an engineer. Upon discovering Engi-YOU Wellness, the Wellness Venture associated with the UBC Engineers without Borders group, I thought this would be an amazing way to promote mental health to the broader engineering community. This was also more important than ever, as the COVID-19 pandemic was impacting students significantly. It was an honour to work alongside my team members to deliver mental health related content through online events to throughout the 2020-2021 academic year. Because of my involvement with Engi-YOU, this has inspired me to continue prioritizing mental health. While on co-op at FortisBC, I gave presentations to fellow co-workers on how to navigate their mental health during COVID-19. I hope to continue to advocate for mental health while a student, and as I move forward in my career to become a professional engineer.