"Embrace your becoming. Be curious, be disciplined – and cultivate the ability to work across social, ecological, and cultural scales."
Degree: Bachelor of Design in Architecture, Landscape Architecture, and Urbanism
Grad year: 2022
Program:
With an exceptional interest in the natural world, stemming from her upbringing on a remote coastal island in B.C., Isla holds an undergraduate degree in Environmental Sciences as well as an Honours undergraduate degree in Environmental Design (now called the Bachelor of Design) from UBC. During her time at UBC, she served as the Co-President and VP Finance of the Environmental Sciences Students' Association and as the Chair of the Earth, Ocean, and Atmospheric Science Undergraduate Council. Additionally, Isla has worked as a UBC Sustainability Ambassador, Research assistant, Field assistant, and Teaching assistant. Her specific interests lie at the intersection of environmental planning, landscape ecology, biogeography, and design – especially in the context of climate change. She is particularly interested in design that integrates large-scale natural systems and non-human entities with increasingly human-dominated environments.
Why did you choose to go into your field of study at UBC?
I first began my studies in the Faculty of Science at UBC because I was interested in understanding the organization and dynamics of the natural world. While I had many interests – across arts, natural sciences, engineering, and design, I did not know how to bridge these largely siloed disciplines and a grounding in the natural sciences felt like a good place to start. While my first year in general science – and following years in Environmental Sciences – gave me a rigorous foundation for understanding the physical, chemical, and biological world around me, it became clear that an interdisciplinary approach to my education was critical, especially given the upcoming and evolving challenges of the 21st Century. When I began taking elective courses in the School of Architecture and Landscape Architecture (SALA) in my second year, I was immediately challenged, engaged, and excited to learn design approaches to problem-solving. Design united my interests in both science and art – and these courses opened by eyes to how critical design thinking could be applied to complex environmental and cultural issues. I later transferred to Environmental Design, and concurrently completed my degree in Environmental Science.
What has made your time at UBC memorable?
I spent nearly two years as a research assistant and field assistant with the WildCo lab, a group on campus that researches human-wildlife coexistence across multiple scales. The work I was primarily involved with investigated how human activity impacts wildlife through space and over time, in protected areas across B.C. The research group was welcoming and inclusive, and although I was an undergraduate student, I was closely mentored and supported by several graduate and post-doctoral students. My work included learning to better identify B.C.'s wildlife and process large amounts of ecological data, to being exposed to new and exciting research, to helping run fieldwork in some of B.C.'s most remarkable landscapes, to helping train new research assistants in the field, and ultimately as a teaching assistant for an undergraduate course in wildlife ecology, to synthesizing on what I had learned, in order to teach others. This work gave me a tremendous appreciation for ecological research and an understanding of how environmental planning and management decisions are made. My research during this time continues to ground, inform, and inspire my environmental design work today.
Image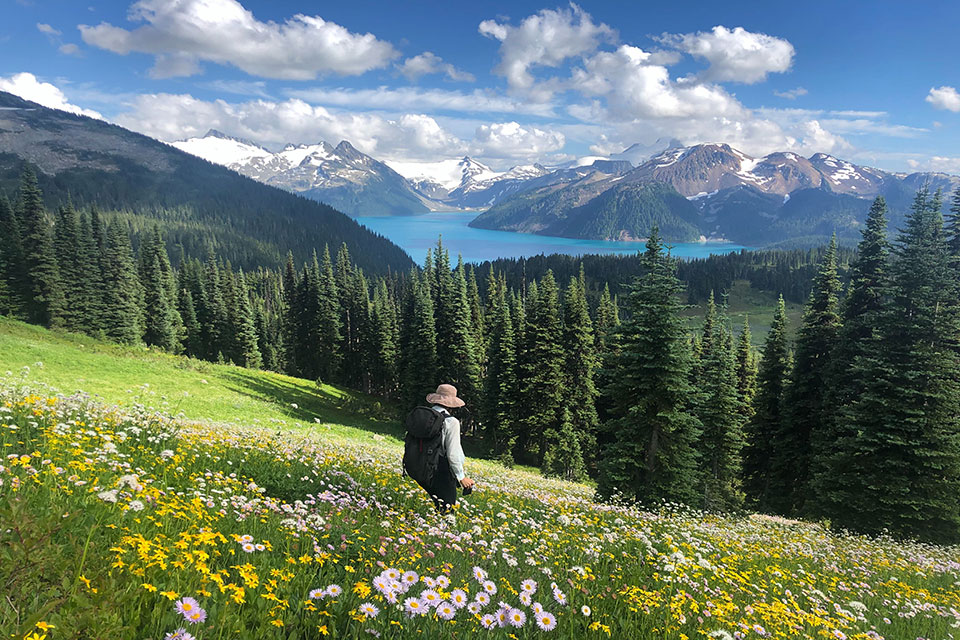 Tell us about your experience in your program. What have you learned that is most valuable?
Environmental design taught me to work across multiple scales – simultaneously – and to frequently toggle between finer scale details and coarser scale issues. The program is an excellent combination of theory, technical skills (from 3D modeling to mapping to digital visualization and representation), and exploration of conceptual ideas and current cultural issues under the framework of design thinking. The creativity and flexibility – and rigor – of each design studio allowed me to critically develop personal academic interests, under the direction of committed and talented faculty. I also enjoyed the collaborative nature of the program. With students coming from a wide range of disciplines, projects were rich, and the resulting discussions were often even richer. For me, this program crystallized that in design and across disciplines, our work together is greater than our work apart.  
What advice would you give a student entering your degree program?
Be curious, be disciplined – and cultivate an expansive understanding of social, ecological, and cultural systems. Design is strengthened through collaborative, interdisciplinary work. The broader experiences you can gain, the better your design practice becomes. My advice to students entering undergraduate design is to sample a wide range of disciplines before and during your time at UBC. Nurture academic and extracurricular interests beyond design – especially early in your degree – and consider how these interests relate back into your design work in the studio. For me, this meant learning about ecology and environmental science and integrating knowledge and ideas from these disciplines into my design projects.
My final advice would be to pace yourself. Design school is very rewarding, but also very intense. Finding a balance between your academics and your physical and mental well-being should always be your main priority.
What are some contributions you would like to make when it comes to the future of work in your field?
Now, more than ever, radical, transdisciplinary, and deeply collaborative work is required to create an equitable, inclusive, and just future. I believe that designers have a critical role to play in unfolding of this. With the interdisciplinary education I received at UBC, I hope to work between – and across – design and ecology fields. I hope to integrate natural cycles and processes into increasingly transformed and degraded environments, ultimately to improve the health of ecological systems and their associated cultural systems. More specifically, I am interested in designing for both ecological restoration and connectivity, and I intend to work alongside existing practitioners – designers, planners, ecologists – who are contributing to the progression of the ecological design field globally.