"I want my work to help a lot of people, have minimal long-term environmental impact, and have nature as a guide when designing."
Degree: Bachelor of Applied Science
Program:
Campus: Vancouver
Year: 3rd year as of September 2023
Why did you want to study engineering?
I have always been very interested in chemistry and biology and I imagined a career in biochemistry or environmental science. I studied International Baccalaureate Physics and Math HL in high school, and my physics teacher suggested that I look into different engineering programs. When I stumbled upon chemical and biological engineering in particular, I thought that it could be the right place for me.
How did you choose Chemical and Biological Engineering? 
I was leaning towards Chemical and Biological Engineering (CHBE) when I came to UBC Engineering, because I saw it as a specialization that aligned with my values and interest in sustainability. In first year, I attended CHBE meet and greets and got to meet many upper-year CHBE students and professors. The department culture and student dynamics are supportive and everyone wants to see each other succeed.
I am happy that CHBE is working hard to create a diverse cohort with a curriculum tailored to foster innovative and sustainable engineering design solutions. 
Chemical and Biological Engineering
Tell us about your co-op experience.
I am currently working at the Zandstra Laboratory at UBC, where we focus on developing processes to engineer stem cells for cellular therapeutics. This isn't necessarily the area I want to specialize in, but it's been an incredible learning experience and I get to work with so many amazing and accomplished people. I've learned a lot about technical communication and presenting results from wet lab experiments, and have broadened my knowledge and interest in biotechnology.
Image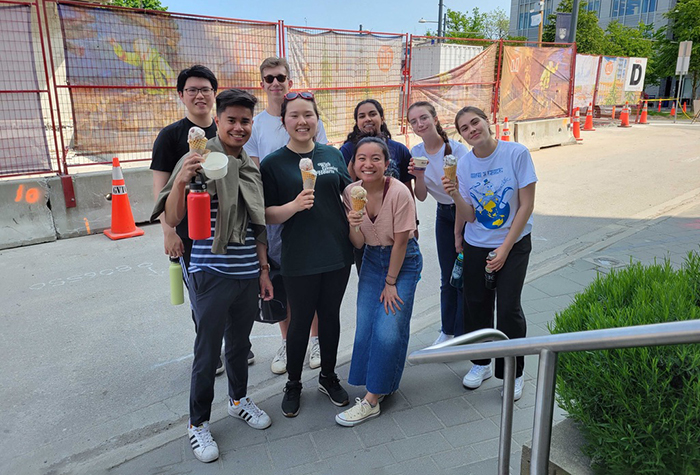 What's ahead for you?
I would like to explore and expand on my passion for sustainability by pursuing a minor in environment and sustainability. I am also very interested in working with certain labs and professors at UBC that are focused on areas such as biodiversity conservation and green energy. In addition to continuing working at Chem-E-Car, I'd like to complete as many co-op terms as I can, to find a path that is right for me after graduation. 
Minor In Environment And Sustainability  Co-op
Any advice for new students?
If you enjoy math and physics in high school, you will probably enjoy first year engineering. 
After that you get to choose a path and customize your degree a little more. It is a lot of work, but the challenge and struggle pay off and can help you form strong connections with other students – we're in this together!