"Be excited about the world and bold in the face of failure. The rest is left as an exercise to the reader."
Degree: Bachelor of Applied Science
Grad year: 2021
Program:
Campus: Vancouver
The past six years have been a memorable and rewarding journey to becoming an engineer. It feels surreal to be graduating since UBC has been a prominent part of my life for so long. During my studies, I worked on autonomous soccer robotics with UBC Thunderbots, spearheaded mentorship initiatives and treasury with the ECE Student Society, and volunteered as an event photographer for hackathons. I've also had the privilege to work with incredible engineers on 5G hotspot routers, hyperscale cloud infrastructure, and safety-critical vehicle simulations through my internships. Though free time was hard to come by, I wouldn't have had it any other way.
Special thanks to my mom and my friends for supporting me all these years. I am very fortunate to have gone through university in such good company.
Why did you choose to go into your field of study at UBC?
I've had a great interest in robotics since I was little. I attended STEM summer camps through my early years and I absolutely loved them; it changed my perspective on how learning didn't have to mean just sitting at a desk and reading. The idea of bringing back-of-the-envelope calculations to the real world and seeing it move was exciting. Throughout high school, I enjoyed math and science, which made Engineering a natural choice. Having pursued competitive figure skating, I was also interested in Psychology or Kinesiology (to which I am still interested in learning). And just like that, I ended up calling UBC Engineering my home for undergrad.
What has made your time at UBC memorable? 
The community that is UBC ECE has been nothing short of amazing. Despite being the largest specialization, ECE always felt like a tight-knit community whenever you entered the Macleod Building. I have fond memories of making new friends before lectures, staying late with my peers to finish a lab, or a TA explaining concepts that I couldn't quite get the first time. Everyone in ECE understands it isn't an easy program and they want you to succeed. The sense of community was a strong motivator for me to stay involved through the years.
One of the most memorable experiences last year was leading mentorship initiatives with the ECE Student Society. I had the pleasure of hosting drop-in Q&A sessions for students looking for advice on academic or professional development. Mentorship is one of the best ways to give back, especially to new ECE students coming into a fully online academic year. It was rewarding to pay it forward, as having great mentors played a major role in shaping my career. I firmly believe many students are capable of great things with a little bit of support and guidance. 
Tell us about your experience in your program. What have you learned that is most valuable?
Being part of a design team such as UBC Thunderbots was the highlight of my program, as I had the opportunity to wear many different hats. I wrote software for supporting the virtual competition simulator, helped redesign the drive train system, lead outreach demos, supported funding efforts, and more. My friends often laughed about how I'd spend more time on Thunderbots than homework, but I really had a wonderful time working with the team. It's been inspiring seeing the team develop over the years to become two-time RoboCup champions. 
Engineering design teams are a fantastic way to gain experience through interdisciplinary work during your studies. You will get out what you put into the team. The technical and leadership skills I've acquired through working on Thunderbots has immensely developed my career as an engineer. I encourage students to apply to design teams for the same reasons, as you'll learn so much with the amazing people who are part of the community.
Image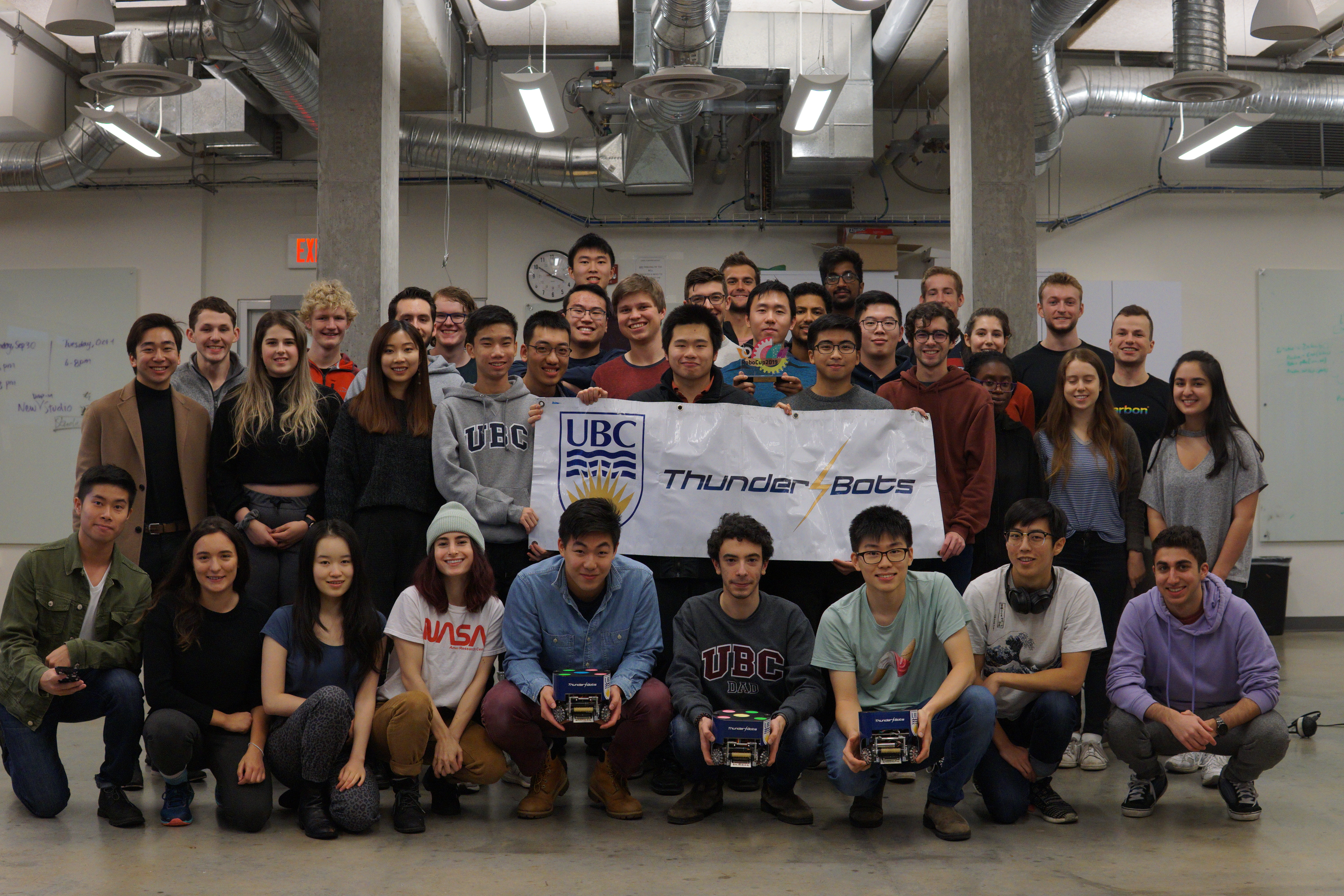 What advice would you give a student entering your degree program?
ECE can be intimidating, especially with the increased difficulty from second year. Don't be afraid to ask questions; if there are concepts you're finding challenging, there is a good chance you're not the only one. When I started the program, I thought I wouldn't make it through the degree with all the questions I had. Throughout my degree, I realized asking questions and seeking out answers is how I learned the most. I've come to appreciate the learning process and I encourage you to find what works best. 
Be bold in seeking out new experiences. University has far too much to offer beyond attending lectures. Be it through your coursework or extracurriculars, find out what you like and (more importantly) don't like. As with learning anything new, shortcomings are to be expected. Use them as opportunities to learn and improve. Think about what you'd like to achieve during your degree and work towards each objective one step at a time.
Most importantly, have fun with whatever you choose to pursue.
Where do you find your inspiration for using your degree to make an impact on our world?
Despite being interested in STEM from a young age, I felt lost pursuing a career in Engineering since I didn't know anyone who had gone through the program. As such, STEM mentorship and outreach has been a passion since I entered UBC. I've often volunteered with UBC Thunderbots to host outreach demonstrations at events and high schools to promote STEM through robotics. These are the same outreach events that inspired me as a child, and I'd love to contribute more in the future. 
I'm grateful for the amazing people I've met at UBC. I'm endlessly inspired by their accomplishments, but even more so by their compassion. From leading mentorship initiatives to leading a design team, they are some of the most talented people I've had the pleasure of working with. I look forward to seeing where their future endeavours take them.
What are your future plans to make a difference in our world?
I'd like to help work towards a future where STEM is accessible no matter your background. At a community level, I am hoping to continue with outreach efforts through volunteering with STEM development initiatives such as Let's Talk Science. At the intersection of my studies and passions, I'd also love to contribute to more accessible open-source initiatives. Above all, I'm most excited about bettering myself and others around me wherever I go.