"You are not behind nor ahead of anyone, we are all on this journey together."
Degree: Bachelor of Applied Science
Grad year: 2022
Program:
Campus: Okanagan
As I was starting my degree at the School of Engineering, I really had no idea what career I wanted once I finished. But what I did have was an overwhelming number of ideas of what my career could be, like working with renewable energy technologies, becoming a control systems engineer for automated processes, or working in the energy utility sector. I even considered becoming an astronaut at one point after reading Chris Hadfield's book "An Astronaut's Guide to Life on Earth".  The best part of going through this degree is a lot of these opportunities are still potential careers for me, except maybe the astronaut one. My uncertainty around a career did not worry me though because I thought that once I completed my degree I would have it all figured out.
Through university, I learned that there is a big world beyond it that I know very little about (this will always be one of my major take-aways from my degree) and that being here I have a great opportunity to learn about these unknown things. During my degree, I was fortunate enough to explore many personal interests through coursework, team projects, clubs, and jobs. University is a world of opportunity, and only entering the last two years of my degree was I able to see that. At this time, I really began to push myself and get engaged in opportunities in my community on campus. I spent the last two years of my degree as a tutor for the Applied Science program, and one summer I was fortunate enough to work as a research assistant with the Laboratory for Solar Energy and Fuels at UBCO. In the last year of my degree, I also started a club that is still operating and developing to this day.
This drive for seizing opportunity, along with the support of my family and friends, brought about so many realizations for me (which is another thing university is good for). It helped me get comfortable with the unknowns that my future holds. Eventually, the thought of not knowing what my future will look like began to really excite me. It made me realize that this degree was only the beginning of a life full of curiosity, fulfillment and eventually figuring it out.
Fast forward five years and I have completed my degree, met many great people, and made many great memories along the way. I have been able to figure some things out as I plan on starting my Masters of Applied Science at UBCO in September of 2022. My five years at university have installed flexibility and curiosity in me that I don't foresee wavering. Moving forward, I think it will be important to keep this curiosity close by, because out of curiosity comes questions, and out of questions comes answers, and if you are so lucky, like myself, out of answers comes opportunity.
Why did you choose to go into your field of study at UBC?
I thought I chose to go to UBCO because it was close to home. But in answering this prompt, I remembered a day I spent out at the school with our family friend's son who was in the mechanical engineering program. I followed him around from class to class, asking questions, watching what university students do, and no doubt probably being a bit annoying. I remember spending this day with my eyes wide and mind racing, starstruck, picturing myself in my tour guide's shoes. What ultimately sold me on attending UBCO.  As I plan to start my graduate studies in the fall of 2022, I am happy that that day out at the university lead to my decision to do my undergrad here. And in retrospect, I realize I was able to spend the last five years of my life going to school in one of the most beautiful places in the world. That will always be enough for me when I question my decision to have gone to UBC.
What has made your time at UBC memorable?
Without a doubt, the people I have met and the community I became a part of has made my time at UBCO the most memorable. Many of the people I met throughout my degree I now consider close friends. Along the way I did, of course, learn a lot, experience different areas of engineering, and participated in multiple group projects, but by far the people I met, the community I formed, and all the experiences that come along with those groups is what stands out to me.
What also made my time at UBC memorable, and something I value just as much as close friends, are the people from the many diverse backgrounds, ethnicities, and life experiences that I did not become close friends with but were able to get a glimpse of their perspective of the world. This exposure to multiple perspectives has opened my mind and will be something that I will forever cherish and be grateful for moving on in life.
Something else that made my time memorable at UBC was reconnecting and immersing myself in the Indigenous community on and off-campus. As an Indigenous person, this made me feel comfortable and at home. The best part was that I was able to become a major part of this community on campus in my later years, first working as a tutor in the Indigenous Programs and Services center and then starting a club focused on bringing together Indigenous students in STEM.
Image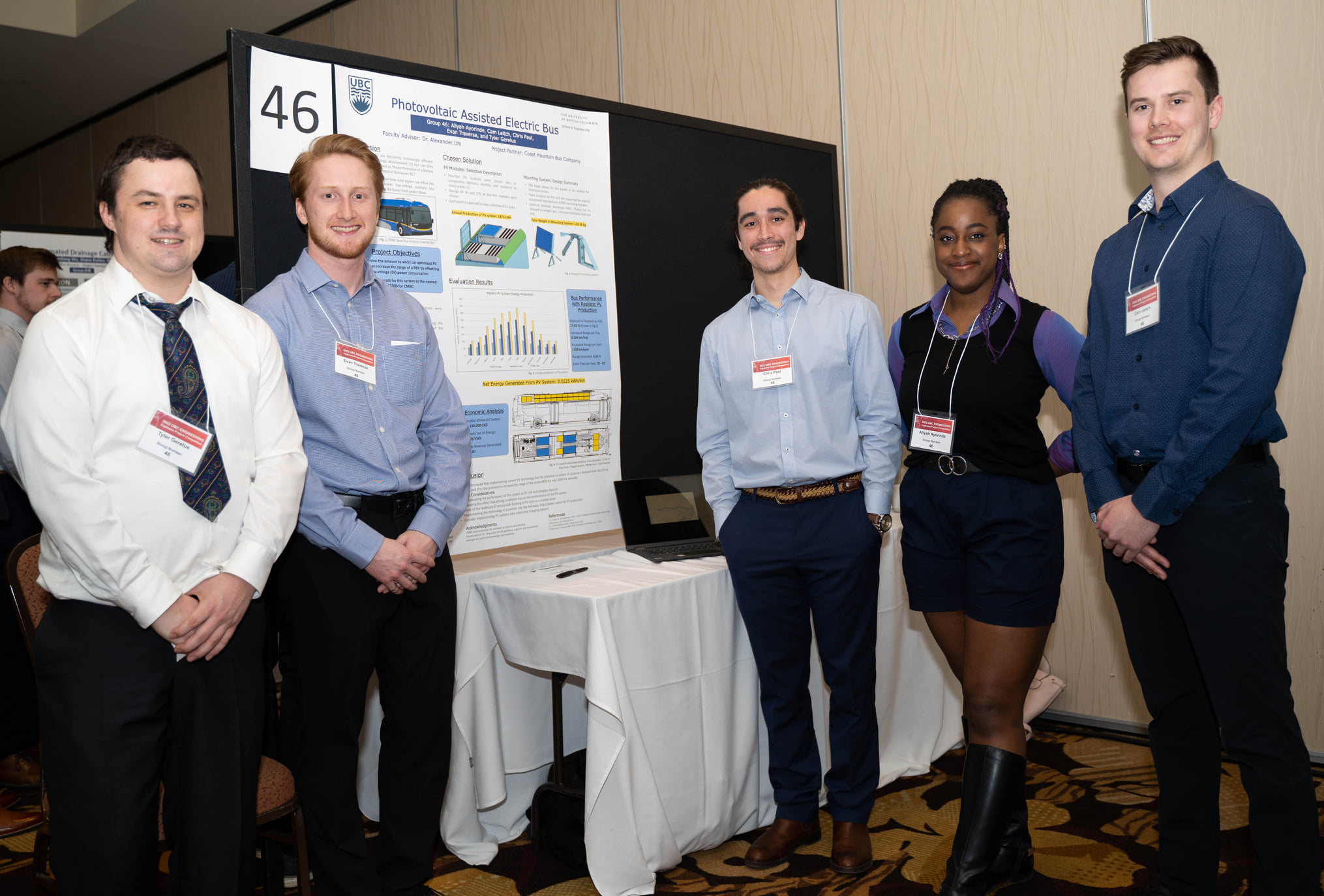 Tell us about your experience in your program. What have you learned that is most valuable?
Above all the other useful skills and attributes that this program instills in us (or at least tries to) like problem-solving, mathematics, and teamwork, I think the most valuable attribute I learned is adaptability. In this crazy, and constantly changing world, this is something I foresee being useful in my future. I think it is attributes like adaptability, leadership, and open-mindedness, and how to use them in an engineering setting, are the things I did not expect to learn. I especially did not understand how important they are for being a successful engineer and person. Through all of it, while still highlighting adaptability, I think I also discovered who I am. There is a chance I only discovered who I am in the field of engineering, but I will take that moving into the future. And, if I need to rediscover myself, maybe in another field, in the future, it's a good thing I learned how to be adaptable through my engineering degree at UBC.
Many of today's jobs did not exist 10 years ago, and we do not know for certain what the workforce will look like 10 years from now. How did your studies in the Faculty of Applied Science prepare you for future work?
I think my studies (as I said before) prepared me for the future of work teaching me how to be adaptable. It also prepared me for the future of work by understanding how important community is to me. Through my experience at UBC, I was fortunate to see the positive impact that advocating for a community and working to better it has, seeing this positive impact gives me satisfaction. Understanding what gives me satisfaction will help guide me in moving into whatever lies ahead of me.