"Make sure to get excited about what you're doing, in all parts of your life. The person having the most fun is usually also the person who will work the hardest, and have the greatest impact in their field."
Degree: Bachelor of Applied Science
Grad year: 2021
Program:
Campus: Vancouver
One of the most challenging parts of completing my undergraduate degree in Geological Engineering was balancing my academic work load with my other ambition: rock climbing. I grew up competing in national and international youth circuits, and had noticed a trend with a lot of the older competitors; they would graduate high school, go to university, and more or less stop climbing. I was determined to not let that happen to me. Balancing these two aspects of my life was especially challenging in the first couple years; I almost failed a few of my first-year courses, got injured, and really had to grapple with if all the effort was worth it, or if I could actually continue to pursue both aspects.
Towards the end of second year, I won my first adult provincial title. In the summer after third year, I sent a climb with a difficulty rating higher than I ever thought I'd ever be able to achieve. During this past academic year, I was a teaching assistant for my favourite third year course, completed a Directed Study that has been submitted to the Canadian Geotechnical Society's individual student competition on behalf of UBC's Geological Engineering unit, and lead my Capstone project team to win the Faculty of Applied Science's 2021 Design and Innovation Day Award for Geological Engineering ( EOAS Student Achievements).
Now that I'm graduating, I've realized I've learned as much about myself over the past five years as I have about rocks and math and stuff. I'm excited to start work with a leading geotechnical firm, and to hopefully return for a Master's degree in a few years time. More than anything, I'm excited to see how much more I'll grow and learn through the next chapters of my life. I'm grateful for all of the opportunities I had throughout my time at UBC, and for how these experiences have prepared me for everything that comes next!
Why did you choose to go into your field of study at UBC?
When I was in high school, all I was focused on was taking a gap year to go on a climbing trip. University felt like a future decision. In all honesty, I had no clue what I was interested in, or good at, or wanted to do for a living. I chose UBC because Vancouver seemed cool and I could defer my acceptance for a year, and chose engineering for the opportunities and options it presented; I figured it would be easier to switch into most other fields of study from engineering if it wasn't the right fit for me.
First year physics and math were quite nearly the end of the engineering journey for me, but through a fair bit of luck, I scraped through. I was so fixated on just trying to pass, however, that I hadn't considered if I enjoyed any of it, and I still had no clue what I was interested in. So, naturally, I just avoided all the things that came least naturally to me: electricity, magnetism, vector projections and the like. A close friend was keen on Geological Engineering, and most of my decision making process consisted of "well I like climbing on rocks, and being outside, and it would be nice to have at least one friend," so I put it as my first choice.
I stayed in my field of study for a multitude of reasons that I really only figured out after I'd committed. The tight-knit community of like-minded individuals, being on a first-name basis with the professors and directors of the discipline, and getting to take courses with and learn from the geoscientists were all aspects I grew to appreciate. Engineering has a lot of important real-world applications, which can be intimidating but can also make the work meaningful. That importance coupled with the fun, curiosity-driven earth science components of Geological Engineering provided the balance of material I needed to keep challenging me in fresh and exciting ways.
Tell us about your experience in your program. What have you learned that is most valuable?
University is full of times where you're thrown in to making a decision you don't feel equipped to make, from which institution to go to, what program/discipline, whether to pursue co-op or not, to do a minor, which electives to take, and so on. The best thing I learned to do was to talk to people who had been through similar decisions, and then try and apply the parts of their experience that make sense to you. As I started to truly appreciate the community that surrounded my field of study, I started to realize two main things:
                 1: There's no one 'right' fit for someone. It takes time and effort to cultivate excitement about a field of study, and that's ok. Stick with it.
                 2: The academic community is one of the most important aspects that can determine how connected you feel to your field of study. Talk to TA's, professors, and other students: be interested, get involved. Share the passion that others have for your field of study, you'll find it's contagious. 
Don't worry about making the 'right' choice for any of these big decisions, whether its what school to go to, or what program, or what discipline. Listen to your gut, make a decision, and then make it right. I was unsure if Geo was right for me for the first couple years, but I could tell there were parts I thought that were cool. By saying yes to new opportunities, putting my best foot forward, and building connections with some truly wonderful people, I slowly reached the point where I knew my decisions had gotten me where I wanted to go.
Image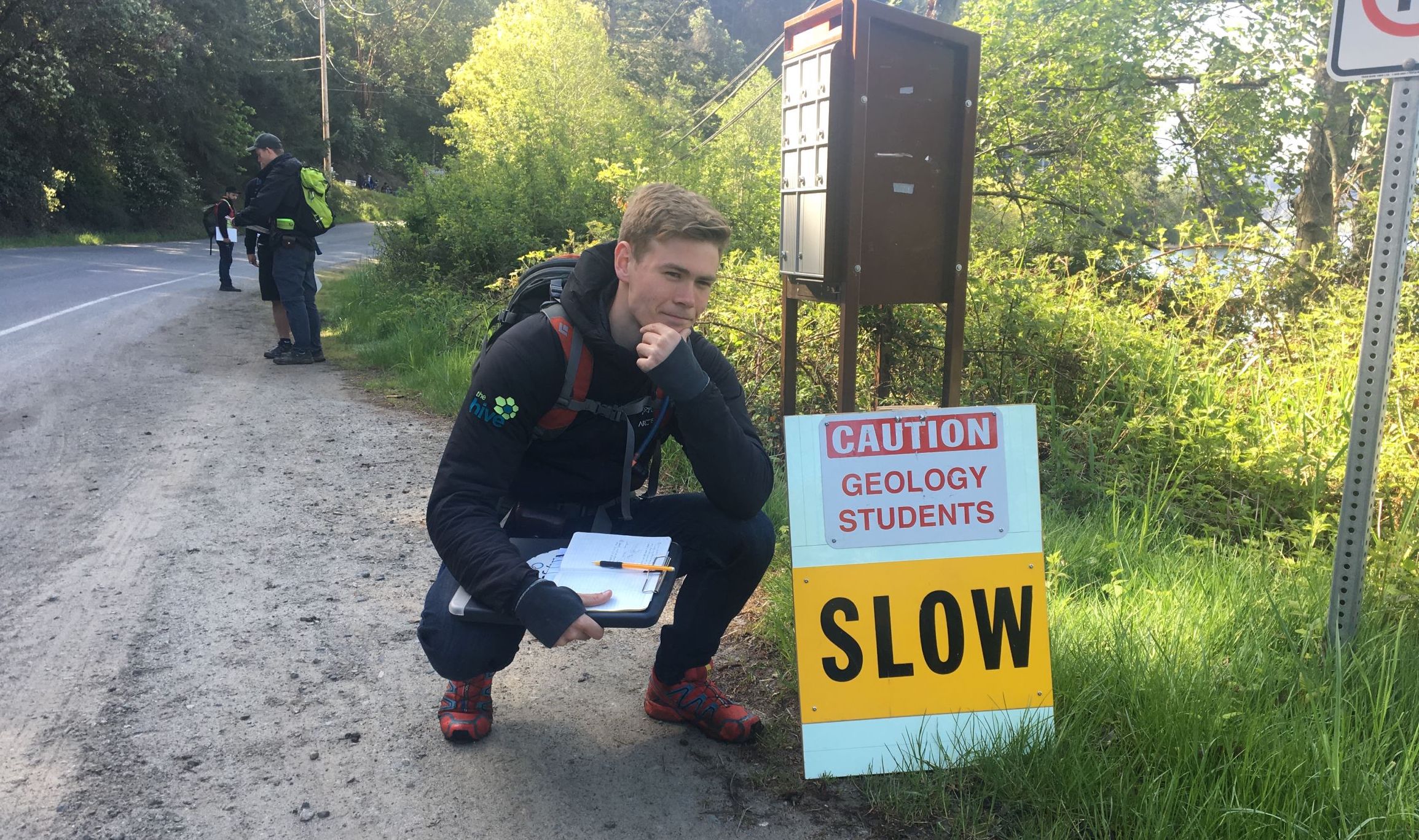 What advice would you give a student entering your degree program?
University is hard. Like really hard. It's not realistically possible to ace every exam, do perfectly on every project, or even give 100% effort on every single assignment for every single course. And that's okay, it takes time to learn the balance of what just needs to get finished and submitted versus what really matters. In first year, part of my challenges came from just the volume of work; every assignment felt like I was just going through the motions to just get it done and move on to the next. A big turning point for me was when I started to come across projects I really wanted to invest time and effort into; I stopped treating some assignments like chores and instead like exciting opportunities to see how well I could do. Remembering to take pride in some of the projects you work on will go a long way in building confidence, excitement, and ambition.
Where do you find your inspiration for using your degree to make an impact on our world?
The biggest driver in my academic and professional efforts so far has been to do right by the numerous mentors who have invested time and effort in me and my journey. I'm a firm believer in the notion that the most important thing we can do as individuals is to always pay things forward. In my experience, professors and graduate students have a huge amount of work on their plates. When they take the time to help you or mentor you, do your best to make sure that you put that effort they've invested in you to good use. By the same token, if you have an opportunity to share some of your experiences and to be that positive contributor to someone else's journey, do your best to pay it forward. If I can be the positive influence for even just one person in the same way my role models are for me, I'll be proud.